2010 Prostar ISX (General Questions)
09-28-2020, (Subject: 2010 Prostar ISX (General Questions) )
vewdew1
TheNewGuy&nbsp&nbsp(0 Likes)&nbsp&nbsp


Posts: 1
Joined: Sep 2020

Thanks: 0
Given 0 thank(s) in 0 post(s)

2010 Prostar ISX (General Questions)
Hi all,
I'm a new HDT truck owner. Recently purchased a 2010 International Prostar with a Cummins ISX that has been converted to an RV hauler which my family and I will use to start traveling full time next summer. I've provided a picture as an attachment for those curious. It has a little over 690k miles, runs great, and oil analysis looked good. It has an enclosed garage on back where I carry a small car, and a hydraulic tail section with air ride RV 5th wheel hitch (clever design). I will be pulling about 20k lbs counting the RV and piggy backed car.
Now that I've had it for a couple weeks, I've started to work my way through a long list of relatively small issues and questions, many of which I've been able to research through this great website. Here's a few questions that I still have:
- I have the Carrier 6000 APU for the sleeper HVAC and to run an inverter for my fridge/tv/microwave in the sleeper. It is also wired to power my RV if I want for boondocking purposes. I would like to use the truck as a small RV for overnight excursions to places I can't fit the full rig and have researched adding shore power. Carrier offers a shore power kit, but it seems kind of expensive. My first thought was to roll my own with an automatic transfer switch, but then I realized there would be no communication back to the APU controller to tell it not to start the generator. Anybody know of a cheap workaround to accomplish this, or should I just pay the Carrier ransom for their kit?
- I have the dreaded wind noise from the front upper corner of the drivers side door. I can pull in just a little and it stops, so wouldn't take it much to make it seal. I've adjusted the door latch but didn't help. Was about to look into tweaking with the hinges, but then stumbled up on a TSB where the OEM offers a shim kit to address the issue. Anybody tried that instead? Can I accomplish the same thing with washers? I read here where several had just put weatherstripping under the seal to push it out further, but they didn't provide the dimension (thickness) of what they used. I ordered some 1/8" thick so will probably try that first, then try the shimming of the hinge.
- My sleeper windows have been caulked shut, so I'm assuming they both leaked. Looks to have been clear silicone or something, but now its turned kind of yellow and looks ugly. I don't need to ever open the windows really, so I was thinking of redoing it. Anyone can recommend a good product to use that won't turn yellow?
- The gentleman I bought it from had ordered a really nice service tool kit in a hard case with datalink module, a bunch of cables, and Inline 6 software CD. Much to my disappointment, when I tried to install I learned that he had not purchased the actual license (which is apparently very expensive). Is there a cheaper aftermarket software solution to use with this hardware? I can't see myself using it very often, so hard to justify the annual subscription cost.
- Since I will only be pulling around 20k lbs max, for maybe 20k miles each year, what would you guys recommend for a service schedule? Oil change and filter replacements once per year?
- I've been looking for a good online store that I can order OEM parts from, but most of them seem pretty sketch with weak search tools. Guess I'm a little spoiled to automotive sites. If anyone wants to PM me some recommendations that would be awesome.
- I had a DOT inspection done at a dealer before I bought it, just to look for any big issues. They did find a few things, but quoted $130/hr labor rates. Is that the labor rate I should expect pretty much anywhere? Am I better off to find an independent mechanic for most minor repairs (e.g. hub leak)?
- I noticed that the fuel gage likes to wander around, as much as 1/8 tank. Makes me a little uneasy as to weather or not I can trust it. I'm guess the sending unit is the first thing to replace? Or is this normal? I read that it only reads the drivers side tank and transfers from the passenger side. Is this only one direction, or will it transfer from the drivers side the the passenger side to keep them balanced?
Thanks in advance for your time!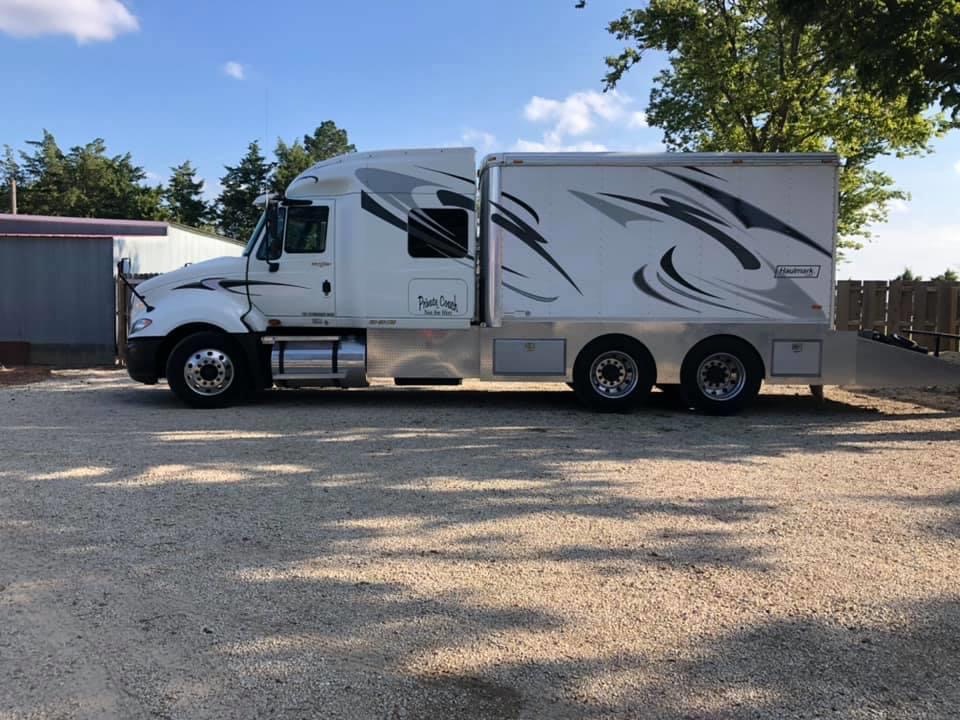 09-29-2020, (Subject: 2010 Prostar ISX (General Questions) )
Waterloo
HMR-Contrinbuting V.I.P.&nbsp&nbsp(3391 Likes)&nbsp&nbsp


Posts: 4,135
Joined: Oct 2014

Thanks: 4527
Given 3391 thank(s) in 1712 post(s)

RE: 2010 Prostar ISX (General Questions)
Where are you located? Mr Hag was the first thing that came to mind after reading your post, and nice rig.
I would look up Jerry, Haggai Automotive and Diesel Repair, he is located just south of Atlanta in Griffin GA. Jerry is one of the few people in the country that I trust to go near my truck. Folks bring their trucks and RV's from all over the country, Canada too, to have him work on their equipment, myself included, and I am in Michigan.
And yes, $130 an hour is average, most shops are now over $150 approaching $200 an hour. So, best to really learn your motor and emissions. Stuff like hub leaks, find a local shop, I use my local TA Truck Stop, but I know those guys, and only use them for small stuff that I care not to do any longer. A good diesel repair shop is getting very difficult to find, so know exactly what the issue is when you go in, and watch if possible. Then, when you get the unit back to the house, go repair what they screwed up. Seriously. Best to learn this stuff and purchase some tools for the little things.
I will send you the info you need to get that Inline reader and software up and running, as you will need it. Myself, I would get rid of the mandate, I will include information on that, assuming you live outside the USA.
One of the first things I would do is the EGR Tune Up, go to the video section at the top of the Rawze.com homepage and look for the video series on the EGR Tune Up. You will need to do this first, and I would also run the overhead and inspect the two cam shafts and the lobes. Also, the crankshaft Damper, if that has not been replaced, you need to put that on your to do list. They are 500,000 mile units and replace. Only use OEM, I paid around $650 for mine and had the dealer install as it was -20 outside. I escaped with a $900 bill. The damper needs to be painted before installing, I use the Cummins brand paint, as it stays put unlike the stuff you get at Home Depot. One can of Cummins red goes a long way, and it is pricey, around $30 a can, but it works. And make sure you highlight the timing marks.
The Carrier APU, I have the Thermoking unit myself, same thing. The shore power, I would probably bite the bullet on their kit, just because of the systems on these newer trucks, they can be a real nightmare if something goes amiss with the CANBUS electrical system. And I am sure that kit is available on line for much less.
I would also look into installing solar panels on the roof, I have done this with my ProStar and am very happy with the results. The ROI will be quick, and it is nice having the batteries fresh after taking a few days off, as the solar acts as a trickle charger. Batteries are not cheap, and if I can get a couple extra years out of them as folks state is possible, this will have been a good investment. And it is nice not having to run the APU all of the time, I figure on a cool or mild day I am saving upwards of $20 in fuel savings. For what it is worth.
The doors, if there is a shim kit, I would go that route first. Hinges are a very popular part for these ProStars, you may have to go that route too, new hinges. On mine, I used a phone book in the hinge area, at the bottom of the door, and closed the door enough to get everything to move, the air leak is gone, also replaced the door gaskets. Cheap fix that may or may not work. I have a 2008 ProStar, so it should work, just be gentle if you do attempt this. And you need a thick phone book, or use lumber, start with a 2x4, as old school thick phone books are now a thing of the past.
The sleeper windows, I repaired mine by removing them and using butyl windshield stuff to repair mine, as the gasket on those windows is ridiculous, just a thin piece of foam. It was kind of a job, but doable. Others have found other fixes, search for sleeper window repair, that thread should pop right up.
(ref:
http://rawze.com/forums/showthread.php?t...451#pid451
)
Service with that many miles should be say every 12,000 miles, or in your case, twice a year. I would also add some gear oil to the oil, many of us use a gallon of Sta-Lube or the Tech brand that Walmart sells. That gear oil has the additive package that many of the newer emission oils have stripped out. It also leaves a nice coating on the cylinder walls, camshafts, lobes and front gear train. And stay the hell away from Lucas Oil! That stuff is garbage with no real purpose other than to empty your wallet.
Don't forget your power steering filter, it is located inside the power steering reservoir, where the fluid is poured in. There is also a water filter located on the passenger side, down near the radiator.
The crankcase breather element, that is on the driver side front top of the motor. It has the large hose running out of it that goes towards the ground. Open that up and see which filter element is in there. If the old foam looking thing, replace that with the new Cummins non filter element. Cummins stocks them, around $100, install and forget. Those filter elements with the foam are around the same, and have to be changed out once or twice a year depending on your application. Get the one time and forget about it filter. And be gentle opening up the case, you will need an 8mm socket, gently remove the bolts, they do not come out of the case, just loosen them until the cover can be removed. Be very gentle tightening back up, as that is when they normally break. That box is around $400! I know first hand.
Parts, and I would only use genuine Cummins parts on this motor, that includes the sensors! Get a Quickserve account, here is the link:
https://quickserve.cummins.com/info/index.html
Find your Engine Identification Number, EIN, it is located on the engine valve cover driver side. The account is free, and will give you access to all procedures, diagnostics and parts along with part numbers. Learn how to use that and find the part numbers, everything is broken down for you, this is the same program that the dealers use.
Now the parts, get your part numbers and start calling around, every dealer has different pricing, one part is $4 and across town that same part is $400. You will learn this fact quickly, so call around and play these guys off each other.
I would also see if you have a FleetPride store near you. This is my go to store for more generic items like hose fitting, clamps, fluids, etc. They carry just about everything under the sun that is truck related.
The fuel gauge, more than likely a gummed up sending unit in the tank, I would replace the one on the driver side and see if that does not solve the issue. It did on mine and is very common. And the fuel will balance out, it goes both ways, at least on my ProStar it does.
I'm out, time to go to work! Nashville here I come!
---
User's Signature: 2008 ProStar, OEM 600hp CM-871, 18spd, 3:42, in framed in Rawze's driveway. Every day is a fresh new episode of, "The Twilight Zone"... Rod Serling lives rent free in my head. I can smell the Chesterfields.
09-29-2020, (Subject: 2010 Prostar ISX (General Questions) )
Rawze
Forum Reject&nbsp&nbsp(9340 Likes)&nbsp&nbsp


Posts: 7,145
Joined: Jun 2013

Thanks: 3957
Given 9340 thank(s) in 3826 post(s)

RE: 2010 Prostar ISX (General Questions)
Just about every industrial piece of equipment had a recommended maintenance schedule for achieving maximum life expectancy. Here is the one for for a Prostar ...
http://rawze.com/forums/showthread.php?t...0#pid26680
Take a few days to inspect, adjust on things, check, and properly fill out this maint. schedule. Keep it on the vehicle in case you ever get inspected by the D.O.T... They require proper service records be kept on commercial/class-8 vehicles.
Fix/renew everything on the list that is found in need of attention. Mechanical equipment cannot heal themselves, therefore we must fight that constant battle of entropy with our equipment.
Find the one for your APU and do that one as well.
---
User's Signature: ->: What I post is just my own thoughts and Opinions! --- I AM Full Of S__T!.
---
&nbsp&nbsp
&nbsp&nbsp