Another bad CM2350 delete from Colarado
03-27-2021, (Subject: Another bad CM2350 delete from Colarado )
Rawze (Online)
Forum Reject&nbsp&nbsp(10222 Likes)&nbsp&nbsp


Posts: 7,834
Joined: Jun 2013

Thanks: 4425
Given 10222 thank(s) in 4243 post(s)

Another bad CM2350 delete from Colarado
"DieselF#ucks", well known ecm delete and tuning shop out of colorado... Another completely horrible ehemm..."ecm-tune". Complete engine garbage programming that is
[email protected]
bent on destroying an ISX. This engine reportedly destroyed itself (#1 connecting rod bearing was beaten out of it) in less than 3 weeks after the program was put in.
Here is what was seen in the program upon review...
* The Advertised Power and torque settings are set for 550HP, 1850 torque ... HOWEVER... THE ACTUAL POWER/TORQUE is set so insanely, destructively high that it is not even remotely funny. Here is a view of the completely horrible power/torque curve in this thing...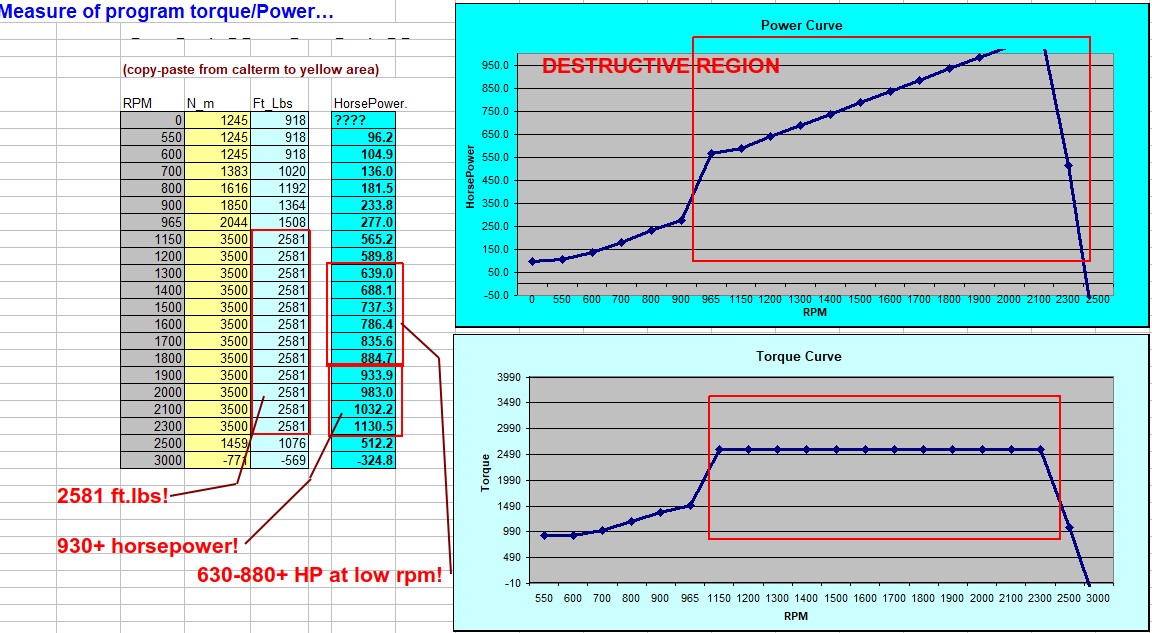 * The torque and fuel conversions are whatcked all the hE#ell as well. The engine really does not know how much power it is making any more. I have never seen a torque fuel conversion table edited into oblivion this badly... ever.
* Fuel pressure tables for the fuel pump set to force the the pump to make more than 4,500+ PSI ABOVE THE STRUCTURAL LIMIT OF THE FUEL PUMP!. - I guess they wanted the fuel pump to explode!!???. here is the values...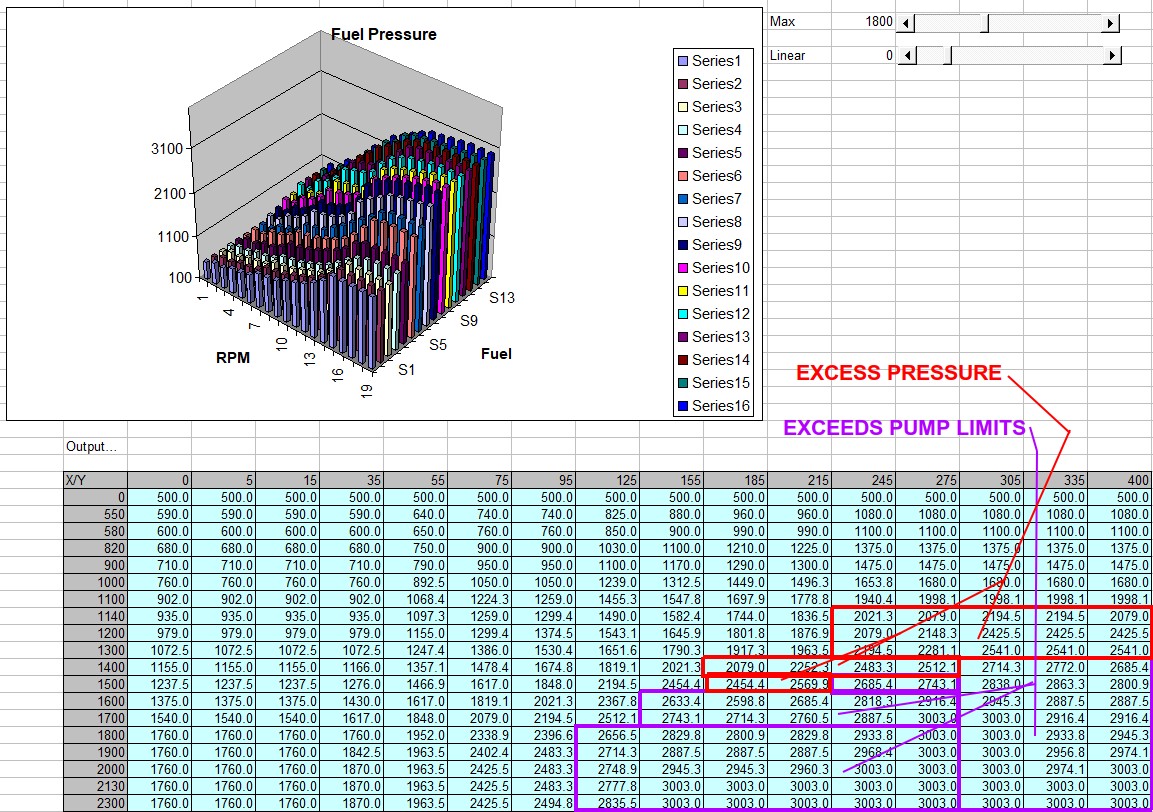 * Injection timing settings have been set to absolutely destroy this engine!. Here is a preview of how bad it really is...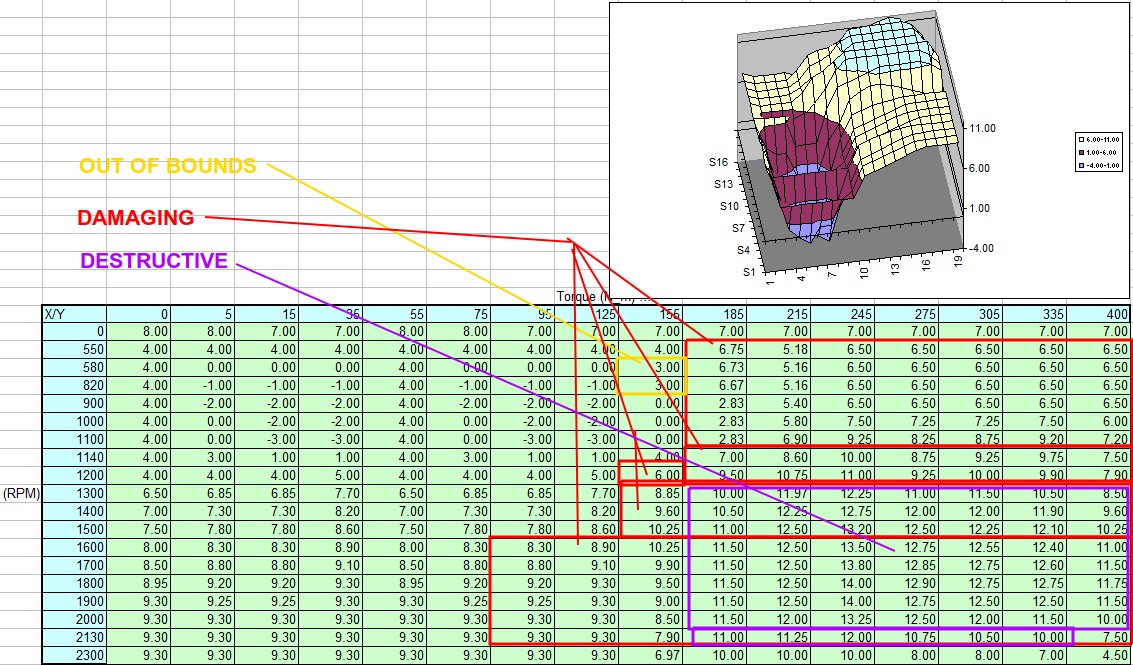 The ISX-2350 does good to handle about 3+ degrees BTDC at high fuelling without egr gas ... this thing is set to more than 12+. Also,.. WHY THE
[email protected]
#LL is it so damn wacky?. This map is all over the place like maybe some 3'rd grader was trying to make a video game map out of it?.. because This haven't seen any engine injection timing map I have ever seen work before!. -- Holy Smokes this thing is bad!
You just can't make this sheet up!!... -- these delete companies are getting worse and worse!!! -- WTF man?

--== TO ADD INSULT TO ALL OF THIS>>>
* The turbo is set to make more than 50+ LBS OF BOOST! -- WTF MAN!!!>>??? -- THEY ARE TRYING REAL HARD TO TEAR THIS ENIGNE TO SHREDS!!...
* They also added a bunch of fuel into the cylinders that the engine does not even know about... This will fool the dash into thinking it is getting much higher fuel mileage than it actually is. It will think the cylinders have leaky injectors and try to compensate.. destroying all cylinder balancing ability by the ecm, and several other issues like unpredictable power and injection timing and all sorts of other disasters that cause harm to the engine.
--- ALL OF THE SETTINGS SO FAR POINT TO SOME COMPLETELY LAME ATTEMPT AT MAKING BIG POWER IN A CM2350... THIS IS NOT BIG POWER... THIS IS BIG DESTRUCTION!!1.. THERE ARE WAYS TO MAKE BIG POWER... AND THIS IS SERIOUSLY NOT HOW YOU DO IT!... THIS IS SIMPLY DESTRUCTIVE AND NOTHING MORE!
I am not even going to get into how bad the delete part of this programming is. That is a whole other can of worms where it was done horribly as well. Half the stuff not turned off properly, engine screaming it needs to warm up an SCR can that is no longer on the truck,.. engine in wrong operating mode and stuck there,. and a long list of all sorts of other disasters.
THESE PEOPLE NEED TO STOP BUTCHERING ENGINES ... THEY ARE NOTHING BUT COMPLETELY DESTROYING ENGINES AND THEIR PROGRAMMING DOES NOTHING BUT DESTRUCTION!... AND THEY CLAIM TO BE THESE BIG-SHOT TUNING COMPANY WHO CAN MAKE BIG POWER AND SAFE TUNING... THESE PEOPLE ARE SO FAR BEYOND CLUELESS THAT IT IS SICKENING!!!

--= THIS Is BY FAR THE VERY WORST ECM PROGRAM I HAVE EVER SEEN FOR AN ISX-2350!!! ==- AND IT HAS NOTHING TO DO WITH THE FACT THEY WERE TRYING TO MAKE A LOT OF POWER.
Although I would disagree with putting big power in a highway truck that is expected to haul freight. This guy claimed he just wanted a delete and some extra pulling power,.. BUT NOT THIS CRAP!!!. THEY ALSO PAID MORE THAN $4,000 for this kindergarten trash not fit to run even a lawn.mower .. completely getting ripped off!.
Although I am not a fan of it, there are proper ways to make a lot of power in a CM2350 engine. THIS however IS NOT HOW YOU DO IT!
These people need to change their name to "we-destroy-your-engine.com".
WHOEVER MADE THIS TERRIBLE PROGRAM NEEDS TO STOP TOUCHING OTHER PEOPLE'S EQUIPMENT!!! -- THEY ARE COMPLETELY CLUELESS!!! AND DANGEROUS!.
.
---
User's Signature: ->: What I post is just my own thoughts and Opinions! --- I AM Full Of S__T!.
03-27-2021, (Subject: Another bad CM2350 delete from Colarado )
LRT1549
HMR-Contrinbuting V.I.P.&nbsp&nbsp(161 Likes)&nbsp&nbsp


Posts: 33
Joined: Oct 2015

Thanks: 39
Given 161 thank(s) in 81 post(s)

RE: Another bad CM2350 delete from Colarado
Thanks Rawze

Let me give a little back story on this. This company belongs to a small family owned trucking company that I am leased to. They have two divisions, one flatbed and one dirt.

They have probably 15-20 dirt trucks that have anything from 871's to 2350's. about two to three years ago they contacted this company out if Colorado to de-mandate several of their trucks ONLY, they didn't want at the time any power changes just wanted the problem systems gone.

This particular truck is an OTR Flatbed truck, a 2014 W900. which at the time was being driven by a young "Go-Getter" lets say...

Before this truck was "FIXED" they had already had the dirt fleet done and have had problems right from the start. They have trucks throwing codes for NOX sensors that aren't even on the truck anymore, codes for Idle validation, and the list goes on. Half of the trucks running these guys tunes have that check engine light on more now then they did before. While I'm not sure of the number exactly, several of them have had to be rebuilt already as well.

This particular truck's story now. The young gun driver, will just call him "Gunner", decided that he wanted his truck deleted and maybe a little more power. Not happy with the stock 600 hp 1850 torque because a stock 2010 with 565 1850 cm871 could out pull him, Gunner got them to let him do his truck.

They did the tune remotely here in their shop and sent the truck out to work. While I'm not sure of the way it was supposed to be set, it was to my understanding supposed to be able to be able to out pull the 2010 now. However a short time later it was faced with the same load, weight and all as the 2010 and was out pulled again. So this pissed off Gunner and he took to Facebook just trashing the "Tuner" in Colorado. So they contacted the him and said to bring it to their shop and they'd get it "RIGHT"..

Gunner spent three days in Colorado with them messing with this truck on their dyno. They put a 500 series CM871 600 turbo on the truck because they couldn't get the stock turbo to work right and then sent him out the door with this tune.. less than three weeks later the truck lost the number one rod bearing which took out the crank and resulted in an out of frame rebuild at slightly less than 600K on the truck.

Fortunately two days after the truck blew up, Gunner decided he wanted a local job and left the company. As a result this truck has sat un-used except for the owner using it for local pick up and delivery mainly because the truck is so radical that no one wants to drive it.

I've always thought that because of his bad mouthing them on FB that they did this to this truck on purpose, after seeing this tune I'm know sure of this. In my opinion anyone that knows enough about tuning to be able to make a tune that will still let the truck run down the road is 100% knowledgeable enough to know this tune would serve one purpose and that's to DESTROY this motor.. I have no doubt they did this 100% on purpose, and to me that's criminal, that's deliberately meant to cost someone $40k+.. And the worst part about it in my opinion is they knew this driver running his mouth was just that, ONLY a driver, they had at the time plenty of experience with this company, they knew it was owned by a 65 year old widow woman, and they knew it was her dime that would have to replace this engine and not Gunner and his big mouth...

I knew the tune was Sh!T when I got into it and started looking, But to have Rawze, a man who has seen thousands of crap tunes in his time say "This is the worst tune I've EVER seen" just confirms to me the pure, intentional vendetta behind this tune..
---
User's Signature: 08 KW W900L 600hp ISX, 18sp, 3:36 rears.
03-27-2021, (Subject: Another bad CM2350 delete from Colarado )
Nostalgic
Contributing Member&nbsp&nbsp(390 Likes)&nbsp&nbsp


Posts: 480
Joined: Apr 2017

Thanks: 482
Given 390 thank(s) in 193 post(s)

RE: Another bad CM2350 delete from Colarado
They might as well have just set the SOI table to 40 across the board so that it "sounds really mean" lol.
03-27-2021, (Subject: Another bad CM2350 delete from Colarado )
Rawze (Online)
Forum Reject&nbsp&nbsp(10222 Likes)&nbsp&nbsp


Posts: 7,834
Joined: Jun 2013

Thanks: 4425
Given 10222 thank(s) in 4243 post(s)

RE: Another bad CM2350 delete from Colarado
(03-27-2021 )

Nostalgic Wrote: They might as well have just set the SOI table to 40 across the board so that it "sounds really mean" lol.
that is what the pick-up truck tuning guys do... makes em smoke like all h#ell for no reason ... has nothing to do with power levels except pure ignorance ... they claim it has to do with cooling the cylinders cuz their too damn dumb to control cylinder pressures and temps when making higher power levels correctly, like a bunch of complete morons ... it is complete bulls#it.
Then the owner wonders why the engine self-destructs due to excessive wall friction a couple years later.
you think there are some butchers in the ISX world... they got nothing on how utterly bad the guys who do smaller engines are.
---
User's Signature: ->: What I post is just my own thoughts and Opinions! --- I AM Full Of S__T!.
---
&nbsp&nbsp
&nbsp&nbsp