CM 570 ISX 500 in 99 Century
06-27-2022, (Subject: CM 570 ISX 500 in 99 Century )
19mechweld63
TheNewGuy&nbsp&nbsp(0 Likes)&nbsp&nbsp


Posts: 1
Joined: Jun 2022

Thanks: 0
Given 0 thank(s) in 0 post(s)

CM 570 ISX 500 in 99 Century
Thanks for letting me join.
Started truck this spring from setting over winter months. When last used last fall, was running good like always. Had a fuel leak on back side of fuel pump assembly. OK, dampeners are leaking again. Got parts on hand. When first start this spring, noticed fuel leak was a lot worse then last fall. Needed truck to move a scrap bin, then I will repair fuel leak. Engine started a little worse then usual, but started and ran good. Drove a 1/4 mile to scrap bin, running ok. Went to back up, engine quit. Started up after little cranking, died again. Did this about 4 times, then wouldn't start at all.
Time to pull fuel pump assembly off and install new parts. Had it off 6 years ago to repair fuel leak, reinstalled and engine ran good till this spring. Installed new parts this spring after a few interruptions with other repairs. Put pump assembly back on truck, tried to start engine noticed still had a fuel leak. Got to looking, and found front fuel rail pressure sensor was leaking. Took bad sensor out, with info from a parts person that informed me that Cummins doesn't use those sensors any more and sell a plug to put in sensor hole. So I took base of old sensor, tapped threads in hole and put set screw in for plug. Reinstalled sensor base in pump assembly. Tried starting engine, will spin over a few revolutions, fire 3 to 4 times, spin over, fire 3 to 4 times. Never start. Consulted a local tech, check fuel pressure at test port. Had low fuel pressure. Changed out gear pump. Have 250 psi fuel pressure now. Still just spin and fire 3 to 4 times, no run.
Had local tech come and hook w/ Insite. Could find any issue's, only code was low voltage on fuel pressure, have front sensor plug off. we come to conclusion ECM quit.
Had local KW dealer and a ECM in other branch across ND. Had them bring it in. Took mine down to Wall Work shop to get info transferred. Got back, installed rebuilt ECM, engine started and ran good. Bumped throttle up for a couple minutes, everything is good. Shut engine off to finish putting pieces back on truck. Though maybe I better start engine again. No start, back to where I was before. Spin, fire 3 to 4 times.
So got discussed at working !/4 mile from shop, pulled and pushed truck into shop. Discuss problem with another tech, came to conclusion that plugged fuel pressure sensor needed to be a working one. So removed sensor from back rail, this was a newer sensor then older front sensor. Was able to get a number off this sensor and go to Cummins parts an be a parts person and look up number. Number on sensor was so small, had to use magnafing glass to read. Had most numbers right, except 3,6, and 9 were hard to tell apart. Was able to use numbers I had written down and number Cummins had to find correct part. Order 2 sensors, for front and back. Installed them on Saturday. Same result, spin, fire 3 to 4 times.
Also using the Cummins bench test wiring harness, that goes in place of the truck harness plug in. To eliminate possible problem in truck side.
Talked to Wall Work service tech, about bringing ECM back for them to check out. He was wondering if something in truck side could have damaged ECM.
That's where I have gotten to. Any advice would be greatly appreciated.
Thank you for reading my story.
06-27-2022, (Subject: CM 570 ISX 500 in 99 Century )
Rawze
Forum Reject&nbsp&nbsp(12195 Likes)&nbsp&nbsp


Posts: 9,843
Joined: Jun 2013

Thanks: 5468
Given 12195 thank(s) in 5291 post(s)

RE: CM 570 ISX 500 in 99 Century
Sounds to me like a whole lot of chasing expensive parts to me due to not knowing much what to do. Should only use certified ECM's as well instead of garbage from repair shops. Seen too many people buy 4 or 5 ecm's only to have to go OEM in the end to get their engine running right.
The fuel pressure sensor needs to work correctly.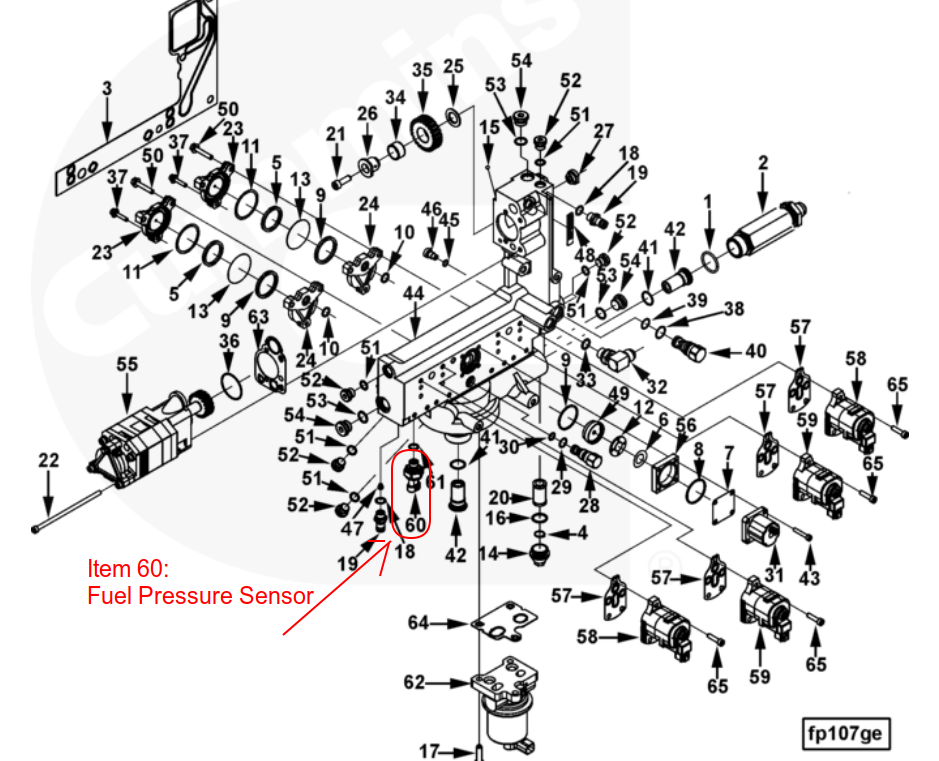 The part# is 4921499
=============
Also, .. has anyone bothered to remove the guts of the fuel shut-off solenoid and see if the issue clears up?.. sometimes they fail intermittently or all together and cause the engine not to crank up properly.
Also, item #20 in the pic above.. is a filter screen. Sometimes they can get clogged up.
Also,.. I have seen where someone installs the fuel filter where it sucks air.. or the fuel-water-separator where it sucks air.. or a fuel line restriction, cracked pick-up tube, etc..
Alsol.. check to see the fuel tanks aren't empty (just stating that sometimes the obvious is overlooked).
What does Insite say the fuel pressure is during cranking?.
ref:
http://rawze.com/forums/showthread.php?t...9#pid15609
---
User's Signature: ->: What I post is just my own thoughts and Opinions! --- I AM Full Of S__T!.
NOTE: Rawze.com is not affiliated, nor endorses any of the google ads that are displayed on this website.
---
&nbsp&nbsp
&nbsp&nbsp